The Trust over IP (ToIP) Foundation announced a critical governing framework (PDF) to assist Santa in making his toughest choices during Christmas Eve.
For generations, Santa used many information sources, potentially unreliable, to choose gifts. However, with the advent of verifiable credential standards, systems, and governance, a more trustworthy ecosystem is being built which will issue NAUGHTY and NICE verifiable credentials based upon trustworthy evidence and accountability standards for all participants.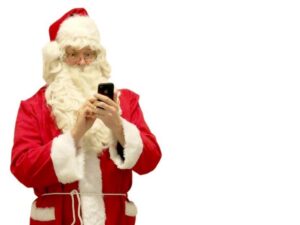 ToIP, working closely with the Santa-led Meaningful Gift Alliance (MEGA), applied its ground-breaking Metamodel Specification to define the ecosystem whereby trustworthy NAUGHTY and NICE credentials will be made available to Santa on Christmas Eve. This effort is expected to save Santa and his elves around 3.14159 million elf-hours per Christmas event which translates into a minimum of 742,000 additional toy deliveries for the 2.2 billion children of the world. #logistics #supplychain
Santa is thrilled. "Those NAUGHTY and NICE lists are just too difficult to scroll through when I'm out all-night delivering presents. I get acid reflux worrying that I'll get my lists mixed up! This new ecosystem delivers all the information I need right to my satellite smartphone with the confidence I need to sail through the night!" #UXdesign

The Governance Framework (PDF) sets nuanced and contextual rules for the privacy protection of BAD and GOOD life events for children, used as input to the quantum-computer generated algorithm that issues NAUGHTY and NICE credentials. It also allows for parents, guardians, and child-advocates to petition on a child's behalf. The Glossary of Terms for uses for the MEGA Governance Framework (PDF) is supported by a Trust Over IP terms community using the Trust Over IP terms wiki tool.
"While we want to save Santa some stress, the main focus is ensuring every child gets a meaningful gift each gift-giving season." says Nichola Hickman, Secretariat for the Meaningful Gift Alliance. "We consulted with many meaningful gift-givers, including representatives for Wookie Life Day, Mother Earth, the IFFF (International Federation of Fairy Godmothers & Tooth Fairies) and the Free Magi-Sons. They all had experienced fraud from grown-ups claiming to be children, so we are delighted with this new method of ensuring that every child gets exactly what they deserve."
Bids will be announced shortly for vendors for MEGA's technical infrastructure.
MEGA also joined the Good Elf Pass Initiative whose "interoperability blueprint" supports its crucial role as issuers of these credentials. The ground-breaking "Hypersleigh" blockchain standard will also support rapid delivery and high security for all Meaningful Gifts. #hypersleigh
For more information on these emerging ecosystems and the Trust Over IP Foundation, contact us at https://trustoverip.org/contact/. Happy Holidays and Happy New Year!